BPA Free Dental Fillings
Our Services
Dental Fillings
When a patient has cavities detected during an exam, dentists will extract the decay and insert the surface with a dental fillings. Based on research by the NIH and the CDC's National Center for Health Statistics, about 91% of Americans suffer from decay which is why fillers are a common form of dental practice. The research also found that 27% of adults suffer from untreated dental caries. Our dentists care significantly for patients and their smiles which is why we use a white filling to ensure confidence in oral health.
Is the tooth colored-filling BPA free?
Bisphenol A (BPA) is a common chemical compound additive to the tooth-colored dental fillings. BPA is problematic which is why our dentists do not use it because of safety concerns of thyroid function and endocrine disruption that may lead to neurological and physical medical issues. In younger patients, there may also be a risk of early development and behavioral disruption. While the scientific community debates the medical risk to patients, we opt not to use BPA until more definitive findings are available. Patient safety is of the utmost importance, so we use alternatives that ensure oral health longevity.
What are composite and ceramic inlays and onlays?
Dental caries affects many people worldwide. While different tooth restoration methods exist, using an inlay and onlay technique is broadly used to treat decay removal and restore tooth function and dental structure. Patients, though, sometimes have indecision about composite or ceramic inlay methods which is why we take the time to consult for compatibility.
What is an inlay or onlay?
Inlays and onlays both restore a tooth from decay, injury, and disease. The techniques are used in different areas of the tooth. Inlays restore the spaces between cusps or the rounded perimeter near the middle of the tooth. Onlays are ideal for cavities that are too serious for dental fillings but not so serious that a tooth needs a crown. This technique is used for one or more cusps or the entire bite surface.
What are composite inlays and onlays?
A composite inlay and onlay is a white resin that covers the material used to seal dental caries so that your tooth coloring matches its counterparts. The composite adhesive is ideal for people with advanced decay, grind teeth, or have misaligned jaw structure that affects bite. There are distinct advantages of composite resin. It produces a more natural appearance as the color will blend with regular tooth coloring. This process also seals the tooth which prevents bacteria from entering and causing an infection.
What are ceramic inlays and onlays?
Dentists first began using the ceramic material as early as the 1700s to make porcelain dentures. Ceramic became less popular when dentists started using resin for aesthetics. It then regained popularity because of the structural limitations of the composite. Today, dentists recommend ceramic because of its aesthetics and functionality. This technique is advantageous because of its suitability with other teeth. It is also cosmetically recommended because of its coloring capabilities. Unlike composites, ceramic inlays and onlays do not discolor over time which is a crucial benefit of this technique.
Meet the Doctors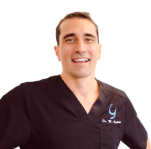 ORAL AND MAXILLOFACIAL SURGEON
Dr. Marcello Guglielmi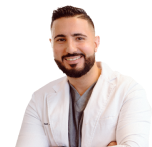 Frequently Asked Questions
What type of procedures does All Smiles Dental Spa perform?

We offer all types of procedures from your routine preventative checkup to aesthetics, Invisalign, implant dentistry and sleep apnea appliances. It is our goal to make your visit with us an extremely pleasant one and to send you home with a beautiful and healthy smile.

What should I expect from my first visit?

Your first visit to All Smiles Dental Spa establishes a vital foundation for our relationship with you. During the first visit, we make sure to obtain important background information and give you time to get to know your dentist. The initial appointment is designed to get you better acquainted with all we offer as well as introduce you to our dentist and caring staff. We will review your medical and dental histories and evaluate your oral health. We will take digital x-rays of your teeth and explain to you whether or not you require cleaning or any other dental treatment.

What can I do to prevent tooth & gum decay and ensure a healthy mouth?

There are several simple steps we recommend to all our patients :

Brush your teeth twice a day in a circular motion with a soft bristled toothbrush aimed at the gum
Floss every night in an up and down motion while keeping the floss in a U-shape and against the tooth surface
Avoid smoking
Avoid sticky sugary foods
Eat a balanced diet
Use antiseptic and fluoride rinses as directed
Sealants placed on young permanent teeth