Sleep Apnea Diagnosis and Appliances
Our Services
Sleep Apnea Diagnosis and Appliances
Sleep apnea is a severe sleep-related condition that causes people to stop and start breathing continuously throughout the night. You may suffer from it if you loudly snore or wake up feeling exhausted even though you slept throughout the night.
What is sleep apnea?
The definition of apnea is 'without breath.' Obstructive sleep apnea, therefore, defines the stoppage of breath during regular sleep patterns because of partial or complete obstruction of the upper airway, which can occur anywhere between the nasal cavity to the vocal cords. The most frequently diagnosed condition involves the oropharynx which is located in the middle part of the throat where the tongue base and tonsils lay. Because of the potential to stop breathing, it's considered a severe medical condition. Based on research, 30 million Americans suffer from this sleep-related condition. There are three main types:
Central sleep apnea is not naturally obstructive. This condition occurs when the brain unsuccessfully sends a signal to the muscles that control your breathing pattern.
This form takes place when a person's throat muscles involuntarily relax. With an obstruction, a person typically experiences a blockage that causes excessive snoring. Swollen tonsils can affect this type of condition, so it is a prime example of how a dental exam can detect sleep apnea.
Complex Sleep Apnea Syndrome
A person who experiences a partial or complete stoppage of airflow while sleeping often receives a diagnosis referred to as Obstructive (OSA). The determination includes symptoms of both central and obstructive symptoms. While a diagnosis must come from a medical provider, dentists become a primary source for detection and treatment by providing patients with Oral Appliance Therapy (OAT).
What are the symptoms of sleep apnea?
There are several similarities between central, obstructive, and complex apnea which make it more difficult to diagnosis specifically. Typical results of both central and obstructive sleep apnea include:
Excessively loud snoring (more dominant in obstruction)
Interruption of sleep patterns
Shortness of breath after abrupt awakening
Headaches
Insomnia
Exhaustion
Irritability
Difficulty with your attention span
Hypersomnia
A sore throat
A dry mouth
What is Oral Appliance Therapy (OAT)
OAT is now an alternative to traditional obstructive sleep apnea (OSA) treatment for patients who experience sensitivity to a Continuous Airway Pressure (CPAP) machine. For our dental professionals, the ability to recognize symptoms, screen patients, and provide treatment enhances the quality and level of care we provide.
What should I do when I receive a prescription for a device?
Once your regular medical doctor consults with you and decides you will benefit from oral appliance therapy, you will receive a prescription for a customized device. Do not worry as your medical insurance plan will cover oral appliance therapy. Currently, the FDA has approved more than one hundred oral appliances. A dental exam will identify the oral appliance device that is best suited for your condition, but, typically, a mouth guard worn while sleeping helps to keep the airway open so that you get a good night's rest.
Meet the Doctors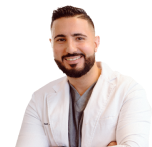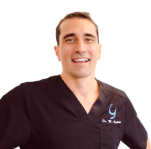 ORAL AND MAXILLOFACIAL SURGEON
Dr. Marcello Guglielmi
Frequently Asked Questions
What type of procedures does All Smiles Dental Spa perform?

We offer all types of procedures from your routine preventative checkup to aesthetics, Invisalign, implant dentistry and sleep apnea appliances. It is our goal to make your visit with us an extremely pleasant one and to send you home with a beautiful and healthy smile.

What can I do to prevent tooth & gum decay and ensure a healthy mouth?

There are several simple steps we recommend to all our patients :

Brush your teeth twice a day in a circular motion with a soft bristled toothbrush aimed at the gum
Floss every night in an up and down motion while keeping the floss in a U-shape and against the tooth surface
Avoid smoking
Avoid sticky sugary foods
Eat a balanced diet
Use antiseptic and fluoride rinses as directed
Sealants placed on young permanent teeth

What should I expect from my first visit?

Your first visit to All Smiles Dental Spa establishes a vital foundation for our relationship with you. During the first visit, we make sure to obtain important background information and give you time to get to know your dentist. The initial appointment is designed to get you better acquainted with all we offer as well as introduce you to our dentist and caring staff. We will review your medical and dental histories and evaluate your oral health. We will take digital x-rays of your teeth and explain to you whether or not you require cleaning or any other dental treatment.