Wisdom Tooth Extraction
Our Services
Wisdom Tooth Extraction
Wisdom teeth, also known as third molars, are the last teeth to erupt on both the top and bottom. These 4 teeth usually come in between ages 17 and 25. While some people never develop issues with their wisdom teeth, others will need to undergo a surgical procedure to remove one or multiple of these teeth.
Wisdom Tooth Extraction Q & A
Why is wisdom tooth extraction necessary?
There are several reasons why your dentist may recommend having your wisdom teeth removed. A few common reasons are listed below.
They are impacted: because wisdom teeth are located so far back in the mouth, sometimes they may have trouble erupting and become trapped under the gumline or jawbone.
They're erupting at the wrong angle: wisdom teeth may try to come in sideways and press against your other molars. They could also be angled toward the back of your mouth.
Difficulty brushing and flossing: due to their location, it can sometimes be hard to properly brush and floss wisdom teeth. Improper can of these teeth can result in cavities and gum disease.
What are the symptoms of an unhealthy wisdom tooth?
Unhealthy wisdom teeth often cause obvious pain that does not subside. Other symptoms may include food being trapped behind wisdom teeth, gum infection or disease, or tooth decay of partially erupted teeth. Occasionally, a patient may not experience any symptoms from a wisdom tooth that is visually impacted or otherwise unhealthy.
How is the procedure performed?
One of three types of anesthesia is commonly used to perform a wisdom tooth extraction. A dentist may choose either local, sedation, or general anesthesia depending on the severity of the issue and your comfort level. Once you have received anesthesia you should no longer be able to feel pain. Your dentist will locate the tooth by first making an incision into the gums and using a drill to get remove any bone that may be covering it. They will then section the wisdom tooth into pieces in order to extract it. Certain patients will require stitches placed, while others will have gauzed packed over the area until bleeding is under control.
What is the recovery like?
If sedation or general anesthesia has been given, a patient will recover at the dentist office before being released to an adult to be driven home. Most patients report being fairly comfortable after surgery and are started on a pain control regimen to ensure they remain that way. Some discomfort, swelling, or bruising can be expected for the first 3 days. Patients should take extra care when brushing, choose soft foods to eat, and drink plenty of fluids. It is best to avoid strenuous activity, smoking, or using a straw during the recovery period.
Meet the Doctors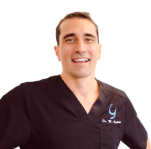 ORAL AND MAXILLOFACIAL SURGEON
Dr. Marcello Guglielmi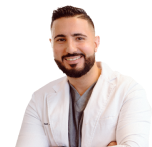 Frequently Asked Questions
What type of procedures does All Smiles Dental Spa perform?

We offer all types of procedures from your routine preventative checkup to aesthetics, Invisalign, implant dentistry and sleep apnea appliances. It is our goal to make your visit with us an extremely pleasant one and to send you home with a beautiful and healthy smile.

What should I expect from my first visit?

Your first visit to All Smiles Dental Spa establishes a vital foundation for our relationship with you. During the first visit, we make sure to obtain important background information and give you time to get to know your dentist. The initial appointment is designed to get you better acquainted with all we offer as well as introduce you to our dentist and caring staff. We will review your medical and dental histories and evaluate your oral health. We will take digital x-rays of your teeth and explain to you whether or not you require cleaning or any other dental treatment.

What can I do to prevent tooth & gum decay and ensure a healthy mouth?

There are several simple steps we recommend to all our patients :

Brush your teeth twice a day in a circular motion with a soft bristled toothbrush aimed at the gum
Floss every night in an up and down motion while keeping the floss in a U-shape and against the tooth surface
Avoid smoking
Avoid sticky sugary foods
Eat a balanced diet
Use antiseptic and fluoride rinses as directed
Sealants placed on young permanent teeth